PRODUCT INTRODUCTION
M-CHECK is a service that provides an analysis of patients' risk for
genetic diseases using genomic variation packages related to specific
diseases with gene chips or analysis kits.

MEDIZEN HUMANCARE provides a variety of risk analyses for genetic
diseases through M-CHECK, a disease-related genetic analysis service.
01.The risk analysis service for genetic diseases provided through M-CHECK (My Genome Check), which is an analysis of genes and biomarkers for individuals that is specific to Koreans and various other ethnicities that we have independently developed, will be a guide for disease prevention, health, and the extension of life.
02. As the company independently owns a genomic database (DB)for Koreans as well as various other ethnicities, it is possible to apply algorithms corresponding to different ethnicities. This has enabled the company to develop international competitiveness in overseas markets.
03. Based on the results of a genomic analysis and biomarker testing, the company provides personalized solutions in consultation with medical specialists, professional nutritionists and geneticists, and operates a program to perform periodic checks.
04. With M-CHECK's genetic diseases risk analysis, the company aims to realize a true ubiquitous healthcare era through customized treatments that can supplement the conventional diagnostic system by providing data required for the prediction, prevention and new treatment of specific diseases.
INSPECTION ITEMS
Test Items for the Customized

Disease Prediction Service through Genomic Analysis
GENOMIC ANALYSIS & FUTURE TOTAL HEALTHCARE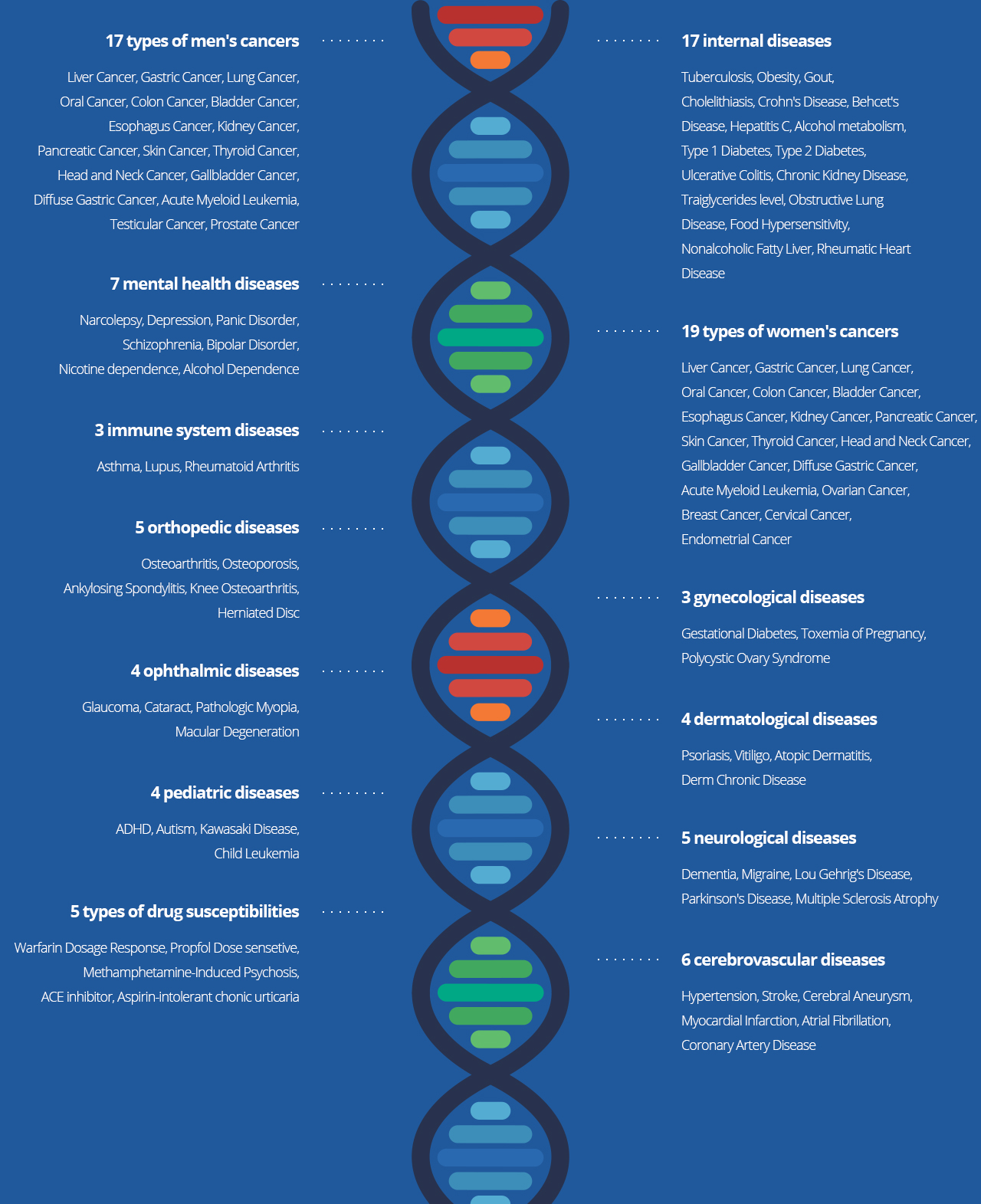 PARTNER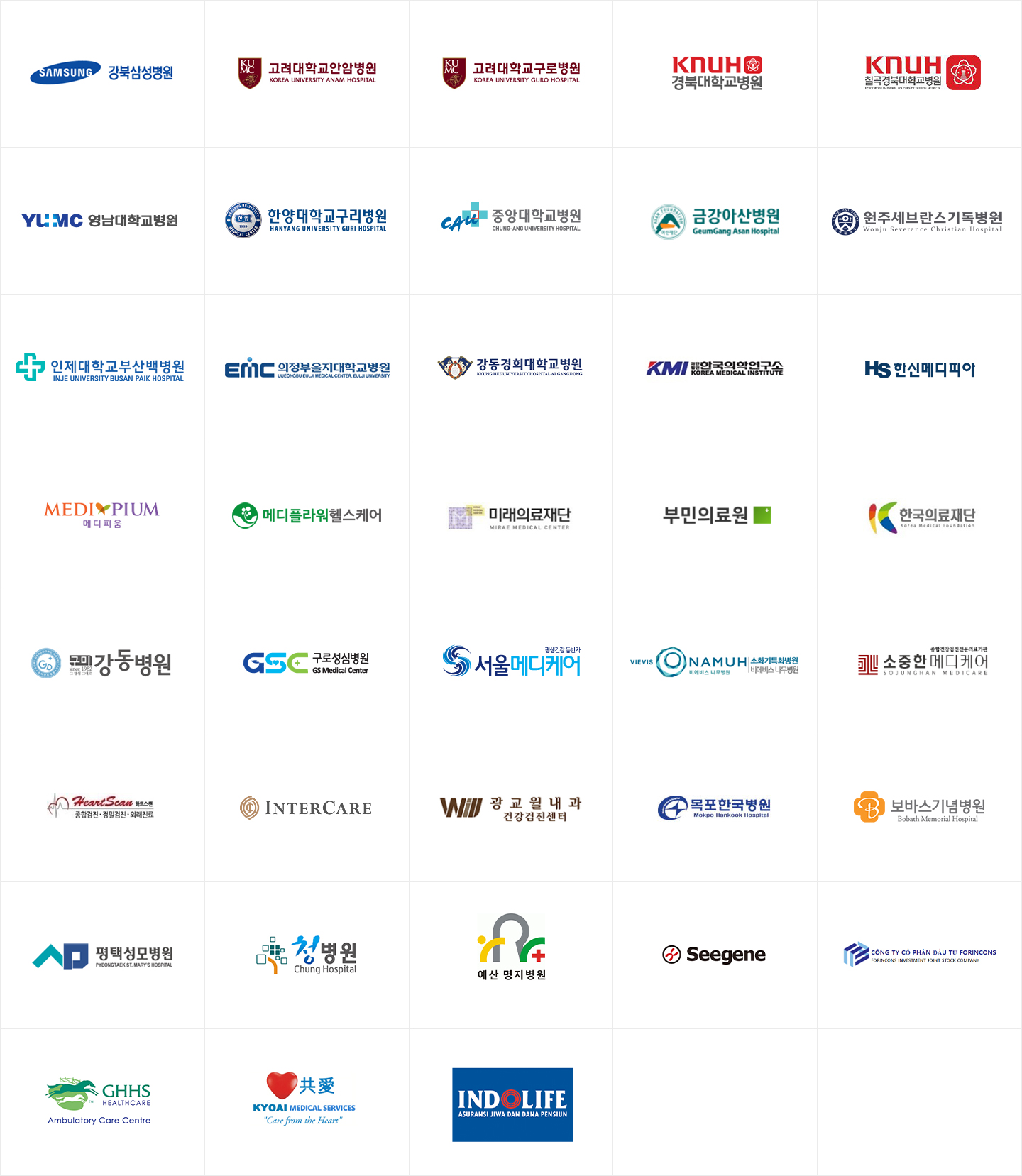 PROCEDURE & METHOD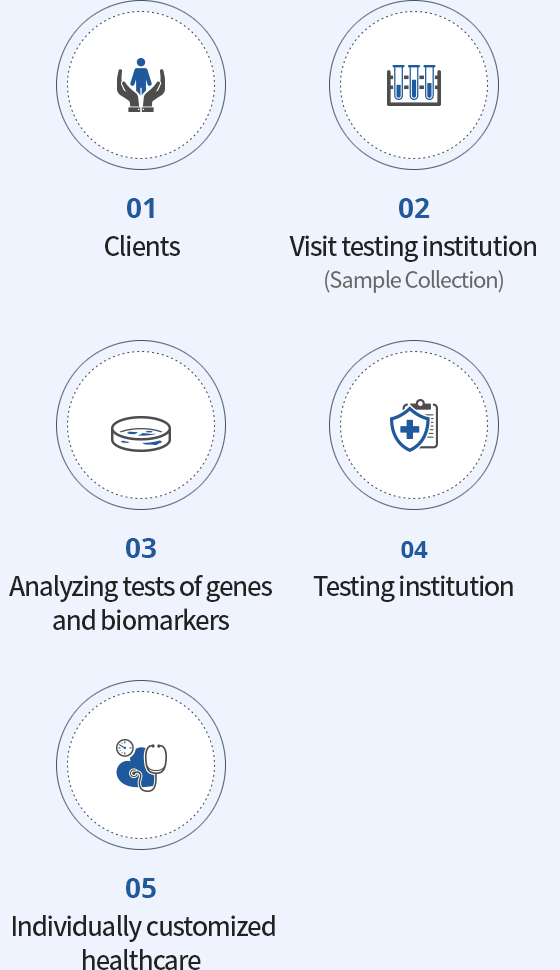 The procedure of
the M-CHECK service of
MEDIZEN HUMANCARE
is as follows.
①Visit the medical institution and inquire about testing.
②After consulting with the doctor to decide whether to conduct genomic testing, fill out the testing request form and the testing consent form.
③Have a sample of blood or saliva taken witha cotton swab at the corresponding medical institution.
④The sample collected at the medical institution will be delivered to our company's R&D center.
⑤After reviewing the documents necessary for genomic testing, DNA is extracted from the collected sample.
⑥Analysis of the extracted DNA will be performed via the M-CHECK system.
⑦The test result will be delivered to the corresponding medical institution.
(It is managed safely, through a system to prevent the exposure of personal information.)
⑧Subjects will receive the test result by going through an explanation and consultation with the medical doctor in charge.
* Requirement for Filling Out and Submitting Consent Form for Genetic Testing
When the test requester collects a material to be tested from the third partyand requests testing by a genetic testing institution, the test requester shall fully explain genetic testing before collecting materials to be tested from all subjects, obtain the consent of the subjectson the Genetic Testing Consent Form (Attached No. 52 Form) in accordance with the Enforcement Decree of Bioethics and Safety Act, and submit it to the genetic testing institution.
(Based on Article 51 Sections (1) and (3) of Bioethics and Safety Act)
For this test, the clinical interpretation according to the test result may notbe recognized, and also the objective vality that activities related to healthare helpful is still insufficient.
RESULTS & MANAGEMENT


Consultation with
a medical specialist
and receipt of the result
(Confirmation of the analysis result)
from the requested testing
institution
①Prescription by the medical specialist according to the result of a genetic analysis
②Early treatment and measures against various diseases
③Confirmation of items related tothe presence of related genetic diseases before procedure and surgery
④Improvement of living environment and dietary habits
⑤Management of life health prediction for the client
⑥Guidelines for family health management and early response
M-CHECK

Do you need materials related to M-CHECK?
Product Data